Western Wyomings Only Heated Storage Warehouse
and
Climate Controlled Wine Storage Facility
Call 307.248.6392 for more information
Welcome to The Vault of Jackson Hole
We love fine wine, beer, and spirits as much as you do.
When we looked around for a secure place to store our prized collections, we realized we'd have to build our own.
In spring, 2021 we opened The Vault of Jackson Hole, a 6500 sq ft secured storage facility complete with a designated climate-controlled room specifically designed for long-term wine storage. Our unassuming location offers a full-service concierge to provide an exceptional customer experience, from storage to sip.
Featured Product: The Vault Wine Rooms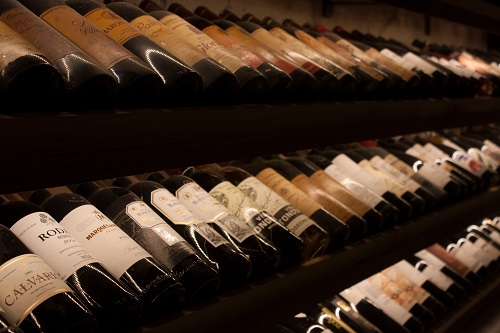 Cool, perfectly humid, dark, and quiet—like a 5-star hotel room for your wine.
Our most popular climate-controlled wine storage solution is our series of specialty wine rooms. These 5x8 rooms are completely customizable and can be made to hold well over 500 bottles of wine.
Climate-controlled and temperature-controlled.
Two often confused – but widely different – storage terms.
Climate-Control Is Best For Wine
Our climate-controlled storage solutions are held at a constant 55°F and 60% relative humidity.
Can your basement do that?
Climate-controlled storage
Maintains the preset temperature at all times.

Controls the moisture level.

Protects against UV and fluorescent light exposure and excessive vibrations.
The Vault even uses LED light instead of traditional bulbs to offer the ultimate protection against unwanted exposure. Custom, vibration-reducing cabinetry ensures even a dolly barreling down the hallway won't upset your bottles
Temperature-Control Is Best For Everything Else
You may hear of local wine storage facilities offering temperature-controlled storage.
The Vault also has 6500 sq ft of temperature-controlled warehouse space - but not for wine.
Temperature-control storage
Protects your possessions from extreme heat and cold.

Safeguards things that need to stay dry.

Saves what would otherwise fill your garage or attic.
While this level of protection is ideal for normal keepsakes, when you have premium vino, keeping the room from freezing or heating up simply isn't enough.
Forget rotten corks, gritty sips, and ruined labels.
We built Jackson Hole's only climate-controlled wine storage facility so you can rest easy, knowing your priceless vino is protected.